Philosophy - How to "step up your intellectual game"
January 9, 2014.
I have provided a collection of important links below that I hope will help to make this easier and more convenient for both novices and seasoned practitioners alike...
In "stepping up your intellectual game," I recommend that everyone review some key concepts: Occam's Razor (review this first), the Scientific Method, the differences between skepticism, pessimism, and optimism (many people seem to miss the nuances), the logical fallacies, and L.O.V.E.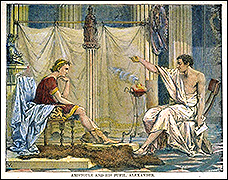 After that, pick your most favoured fields of interest and attempt to apply skepticism with an attitude of impartiality (e.g., try to discover how your own perceptions might be right, wrong, or merely insufficient so as to learn more).
P.S.: You are welcome to share this with others, and I hope you do because I believe that any populace who has a more pervasive understanding of these subjects is far more likely to benefit in the long run by becoming a "more enlightened" society. Although it may seem unrelated on the surface, I also believe that more intellectualism is an essential aspect of fostering attitudes that help to promote freedom.